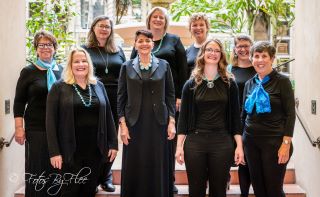 Founded in 1965, WomenSing is an auditioned chorus renowned for its vibrant and beautifully blended sound. The repertoire includes both the traditional and the unexpected, featuring great landmarks of the women's chorus repertoire, seldom performed works, new music, commissions from nationally recognized composers, and familiar music from all eras. Performances include rewarding collaborations with major performing groups and the finest Bay Area musicians, and special choral events to help raise awareness of community and global issues.
Its innovative Sing4LIfe program, currently at the Cancer Support Community in Walnut Creek, shares the healthful experience of a ready-made choir with those unable to access such a group. Awards and honors include support from MetLife Meet the Composer and Lafayette Community Foundation for their support of new music, the Chorus America/ASCAP Alice Parker Award for adventurous programming in 2010, the 2010 Contra Costa County Arts and Culture Commission Award for Excellence, and being one of six Bay Area choirs selected to perform during the Chorus America Annual Conference June 2011 in San Francisco.
WomenSing has performed throughout Europe, Asia, Latin and South America, Canada and the United States. This summer's WomenSing in Greece! Tour will include sightseeing, great music, cultural exchange, and outreach.