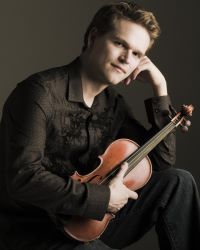 Mads Tolling is an internationally renowned violinist and composer originally from Copenhagen, Denmark, now living in San Francisco. As a former nine-year member of both bassist Stanley Clarke's band and the celebrated Turtle Island Quartet, Tolling won two Grammy Awards, and he was nominated for a third Grammy in 2015. He was the 2016 winner of the DownBeat Critics Poll Rising Star Violin Award. Tolling has performed with Chick Corea, Ramsey Lewis, Kenny Barron, Paquito D'Rivera, Leo Kottke and Sergio & Odair Assad. Tolling is a current member of Bob Weir's Wolf Bros & Wolf Pack Band.
After graduating from Berklee College of Music in 2003, Tolling was recommended by Jean-Luc Ponty to join Stanley Clarke's band. He has since been featured on NPR's Morning Edition, and his recordings have received rave reviews in Washington Post, San Francisco Chronicle, Strings Magazine and DownBeat Magazine. Tolling has performed for Danish royalty — Prince Frederik & Princess Mary — at the celebration of The Danish Embassy's 50-year Anniversary. Since 2021, Tolling has been a member of Bob Weir & Wolf Bros project as part of the Wolf Pack with tours across the US, including at Red Rocks, The Greek Theatre and Radio City Music Hall. He is featured on Weir's album Live in Colorado. Tolling has written several arrangements of Grateful Dead tunes for the band, some of which are now also part of the Mads Men repertoire.
Tolling has twice been commissioned to write violin concertos – for Oakland Symphony and Pacific Chamber Orchestra. He has performed his symphonic works and soloed with orchestras around the US and Japan.
Tolling now leads his own groups — Mads Tolling Quartet and Mads Tolling & The Mads Men. His release, Playing the 60s, is a reimagination of classic songs from 1960s film, TV and radio, such as "A Taste of Honey," "Hawaii 5-0" and "Mission: Impossible." The album features vocalists Kenny Washington, Kalil Wilson and Spencer Day, and it spent two months on US jazz radio's top 30.
With his groups, Tolling has performed over a thousand concerts around the world, including at The Hollywood Bowl, Library of Congress and at the Bay Area's Paramount and Herbst Theatres. As a featured Yamaha Artist, Mads leads clinics and masterclasses in the US and internationally.