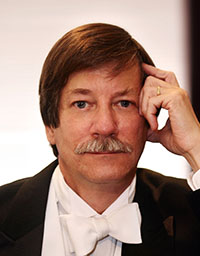 Randall Benway is a native of Cleveland, Ohio, where at the age of 10 he was accepted as the youngest piano student of Theodore Lettvin and later as a student of Arthur Loesser and Eunice Podis.
At 16 Mr. Benway collaborated in piano concerto performances with conductor James Levine and was often requested by Robert Shaw to accompany his various singing groups.
He was an undergraduate at Hartt College of Music in West Hartford, Connecticut, and received a Master of Music (Piano) degree from the University of Michigan, where he studied piano with Gyorgy Sandor and Louis Nagel and composition with William Bolcom.
Mr. Benway spent considerable time in Europe, including living in London, England, for two years while studying piano with Balint Vazsonyi; living in Fontainebleau, France, while studying composition with Nadia Boulanger; and extended stays in the Alps in Crans-Montana, Switzerland and Grenoble, France. As a student, Mr. Benway attended and performed in master classes of some of the great European artists, including Balint Vazsonyi, Clifford Curzon, John Ogden, Jean-Marie Darré, Nikita Magaloff, and Soulima Stravinsky. Mr. Benway won two piano competitions, resulting in concerto performances in the United States and Switzerland.
Mr. Benway has performed in the United States, Europe, and Asia as soloist, soloist with orchestra, and chamber musician, including live radio broadcasts on National Public Radio. He has performed many four-hands and two-piano concerts in Europe and China. He is a founding member of The Redwood Trio, former President for many years of the United States Open Music Competition, and founder of Music in Residence, a new nonprofit organization which will produce salon concerts in the Bay Area, as well as an international piano festival.
Mr. Benway has made more than 150 trips to Asia, with considerable time spent in China playing concerts, judging piano competitions, and giving master classes in Yantai, Kunming, Dalian, Weifang, Xiamen, Chengdu, and Beijing. He also advises young Chinese pianists about how and where to study at music schools in the United States.
Since 2009 he has been assistant Director of the Blackhawk Chorus, an award-winning group of 140 who sing in the Bay Area, and on tour in New York, England, Wales, Ireland, and Europe. He is a faculty member of the Lancaster International Piano Festival.
Mr. Benway is a sought-after accompanist and coach for pianists, opera singers, and instrumentalists, and a frequent judge in both domestic and international piano competitions.