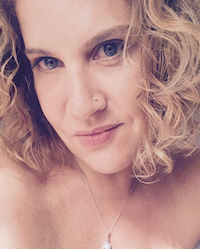 Heidi Moss is a Bay Area performer, educator, and scientist. Noted for her "rich and radiant soprano" (Edward Oriz, Sacramento Bee), she has performed on national and international stages, including numerous local companies such as Opera Parallèle, Festival Opera, West Edge Opera, Livermore Opera, Fremont Symphony, Peninsula Symphony, Oakland Symphony, and the Sacramento Choral Society.
A champion of new music, she helped spearhead the performance of eight song premieres by eight renowned composers for an alte/neue lieder fest with LIEDER ALIVE!—including Daron Hagen, David Conte, Kurt Erickson, and Henry Mollicone. She continues her collaborations with living composers, including a recital of works by Jake Heggie, with the composer himself at the piano. She has also premiered works by philanthropist Gordon Getty with the Russian National Orchestra and San Francisco Opera and will soon be premiering a piece by Tarik O'Regan.
Moss has also garnered recognition in major vocal competitions, including the Metropolitan Opera National Council Auditions (New York City first-place winner), the Liederkranz Awards, the MacAllister Awards, and a KDFC competition that resulted in a performance with pianist Lang Lang.
In addition to her musical life, Heidi graduated with a double biology and music degree from Oberlin and a masters in biochemistry at the University of Pennsylvania. She studied telomeres at Rockefeller University and has authored several publications, including a landmark paper in Cell that was featured in the New York Times elucidating a revolutionary discovery that the ends of DNA are looped.
Her interest in voice science came from her work in the lab of the late Richard Miller at Oberlin. Throughout her career, she has collected historical vocal pedagogy texts and scientific papers both inside and outside the field to fuel her unique perspective on singing. In 2007 a rare cranial nerve injury sidelined her singing career, and doctors as well as teachers warned her that she might never perform again. Using her own scientific research and strategies, particularly in how speech and singing are processed in the brain, she rehabilitated to return to the art she loves. In 2019 she was awarded a "Best in the Bay" award for her Richard Strauss recital featuring John Parr of Deutsche Oper Berlin at the piano.
In addition to teaching in her private studio, Heidi teaches voice and vocal physiology at the San Francisco Conservatory of Music. She has been an invited speaker at The Pacific Voice Conference, Cleveland Institute of Music, University of Oregon, Vocal ProcessUK, and NerdNiteSF. Her writings have appeared in blogs such as The Naked Vocalist, and her paper on mobile applications and biofeedback will appear in the Journal of Singing in 2020. She is currently working on a series of articles entitled "Minding the Gap: Connecting Research from Basic Science and Neuroscience to Vocal Pedagogy." She is the wife of composer/pianist Kurt Erickson, winner of the NATS Art Song Prize, and they are proudly parenting four children together.