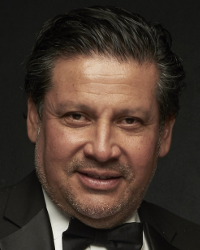 Hernando Torres-Fernandez was born in Arequipa, Peru's second largest city, where he started his piano lessons at 7 years old with Jorge Delgado (former pupil of Claudio Arrau), and continued in Lima with Teresa Quesada (former pupil of Isabelle Vengerova and Rudolf Serkin at the Curtis Institute). He attended master classes with Claudio Arrau in Chile, Rosa Torres-Pardo in Spain, and Carlos Juris and Roberto Bravo at the Sibelius Academy in Finland.
He has performed recitals in Peru, Brazil, England, Italy, Spain and France, and chamber music in Finland, Sweden and Colombia. He has been a soloist with orchestras in Arequipa (performing the Mozart Piano Concerto No. 23) and in Lima, playing the Bach and Mozart concertos for two pianos, and the Vivaldi-Bach concerto for four pianos.
Hernando Torres-Fernandez is also a career diplomat, currently Consul General of Peru in San Francisco.