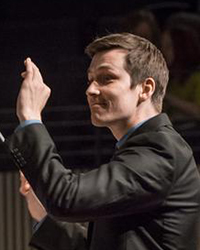 At the age of 30, Brad has performed extensively throughout North America, Europe and Japan. Equally comfortable on stage, on the podium, and in the classroom, he is the Assistant Professor of Wind Ensemble and Conducting at San Francisco State University, the music director and conductor of the Contra Costa Wind Symphony, while maintaining a busy performance schedule as a trumpeter.
Since moving to Bay Area, he has performed with the San Francisco Symphony, San Francisco Opera, SF Chamber Orchestra, SF Contemporary Music Players, Eco Ensemble, Bay Brass, Fresno Philharmonic Orchestra, California Symphony, Modesto Symphony, Monterey Symphony Orchestra, Oakland East Bay Symphony, Marin Symphony, and Symphony Napa Valley. He will be the acting 2nd trumpet for the Reno Chamber Orchestra's 2016-2017 season.
Brad keeps a busy summer schedule, most recently performing this summer with the Sun Valley Summer Orchestra, the Cabrillo Music Festival, the Britt Festival Orchestra. He has also performed with other Bay Area festivals including Music in the Vineyards Festival, Mendocino Music Festival and Music in the Mountains. In the summer of 2012, Brad was a featured soloist with the Brevard Music Center Orchestra, playing the Henri Tomasi Concerto for trumpet and orchestra. He also spent past summers performing domestically and internationally with the Pacific Music Festival in Sapporo, Japan, The Spoleto USA Festival Orchestra, CCM Spoleto Festival, and the National Youth Orchestra of the Netherlands.
An avid educator, he was the Chair of Instrumental Music, Band and Full Orchestra director of Ruth Asawa San Francisco School of the Arts High School. In 2014 he conducted the Ruth Asawa SOTA Orchestra at SF Jazz for the Other Minds Festival, the first student group to ever be featured in the festival's 20 year history. Prior to moving to the Bay Area, Brad taught music for one year at the Gunma Kokusai Academy in Ota Gunma, Japan. Diverse in professional activities, he has also conducts brass choirs and wind ensembles and is an arranger for various types of ensembles, including a yearly new arrangement for the San Francisco Conservatory of Music's Noble Trumpet ensemble.
Brad completed a double major in trumpet performance and music education at the Eastman School of Music and also spent a semester in Germany at the Hochschule für Musik Freiburg. He graduated with his masters in trumpet performance at the San Francisco Conservatory of Music in 2012. His principal trumpet teachers have been Mark Inouye, James Thompson, Anthony Plog and Roger Bobo. His primary conducting teachers have been Mark Davis Scatterday and Brad Lubman.