Get to know your DSO: Bob Satterford, French Horn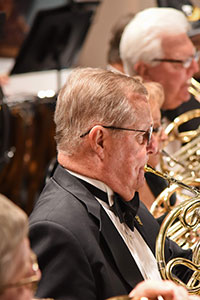 What instrument do you play in DSO/what is your role in the orchestra?
Horn. Since the passing of our beloved Bill Eich, Gary Crandell and I have been splitting duty as Principal Horn.
How long have you played with DSO?
Regular member since 2010; was a sub/extra for at least 15 years before that.
Do you play any other instruments?
Yes. I started out on trumpet, which was my main instrument through university. I first played horn the summer before 8th grade. I had gotten braces and could not play trumpet without drawing blood. Before I got rid of the braces in 10th grade, I had also learned euphonium, tuba and trombone. After a long post-college hiatus from playing, I took up horn as my primary instrument.
What is your City of Residence?
Orinda (latest on a very long list)
What do you do for a living?
I am retired from a long career as a corporate attorney. I also served 28 years as an active and reserve officer in the U.S. Navy.
Describe your family life (do you have a spouse, kids, pets?)
Single. Divorced. No pets since dear Jack (standard poodle) ascended to Dog Paradise a few years ago.
What has been your favorite concert to play at DSO and why?
So many to choose from! Our recent Beethoven #6 and #9 and Schumann #3 concerts are standouts.
What keeps you motivated?
Life, with music and learning, every day.
What is your favorite place to visit, or what is a place would you like to visit that you have never been?
I was a Navy kid; we lived all over; traveled a lot. Lived in Hawai'i for a while and love to go there, but I don't "visit" it as parts of my heart and spirit never left. New places to see? Sure — everywhere that I haven't been to yet!
What song best sums you up? (Can be classical or not)
Can't think of one. Partial, though, to The Logger Song (". . . I can tell that you're a logger, Sir, and not a common bum/For only a true logger stirs his coffee with his thumb.")
What are you proudest of?
My service in the U.S. Navy.
"I'm happiest when…"
Other than playing music? Easy! Out on the open road, full tank of gas, a little money and a lot of time in hand, no particular destination.
What is one thing that few people know about you?
Die-hard L.A. Dodgers fan, going back to when they were in Brooklyn.
What is one piece of music you have always wanted to play at DSO, and why?
Can't narrow it down to one. I think, however, that we're due to play some Mahler (anything, but especially Symphony #7 and Das Lied von der Erde).