Get to know your DSO: Wendy Jacobsen, bassoon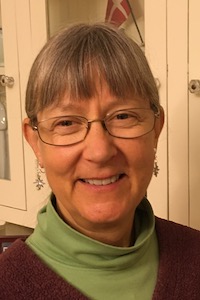 What instrument do you play in DSO/what is your role in the orchestra?
I am delighted to play principal bassoon in the DSO, a dream come true.
How long have you played with DSO?
I have played with DSO since the 2014-2015 season. This will make my 7th season.
Do you play any other instruments?
Not that I'd admit to.
What is your City of Residence?
Oakland
What do you do for a living?
I was a Marriage and Family Therapist and Registered Play Therapist until I retired in the summer of 2016. Since then I have been pursuing my first love of music and playing the bassoon.
Describe your family life (do you have a spouse, kids, pets?)
I am married with many houseplants, a garden, and stuffed animals for which I care. I grew up in Texas where some of my family still lives.
What has been your favorite concert to play at DSO and why?
I enjoy the concerts in which we play along with another art form, be it dance, film, or soloists. I like the challenge of being required to be alert to respond to the moment.
What keeps you motivated?
New pieces of music. Having returned to playing after a 30 year break, music that others have played multiple times is new to me. It keeps me challenged. I am also motivated by the challenge of making my part sing along with the rest of the orchestra members' parts, whether I have a whole note held for several measures or running 16ths that I can barely play.
What is your favorite place to visit, or what is a place would you like to visit that you have never been?
I love to visit the national parks in the United States for camping, backpacking, and learning about their origins. Natural science, especially around bird life, draws me.
What song best sums you up? (Can be classical or not)
When I was a child there was a popular song by the band called The Association. The song was titled "Windy" which pretty much summed me up. It helped that I grew up in Texas where people could not pronounce "Wendy", so always mispronounced and misspelled my name to be "Windy". As I've gotten older I cannot live up to the energy of that song, but the sentiment is still inspiring.
What are you proudest of?
Making All State Orchestra, 1st chair, in high school and getting a music scholarship to Northwestern University where I got my Bachelors in Music Education. I am also proud of being able to pick up the bassoon again after 30 years of absence.
"I'm happiest when…"
I'm in nature. I have a t-shirt with a saying on it: "The music of nature is the nature of music." That about sums it up.
What is one thing that few people know about you?
My husband and I have 50 stuffed animals, and counting.
What is one piece of music you have always wanted to play at DSO, and why?
I got my wish in February 2016 when we performed "The Sorcerer's Apprentice." Bonza good bassoon section parts. "The Rite of Spring", when we get to play it, will be one I approach with excitement and trembling.