Get to know your DSO: Sara Usher, concertmaster, violin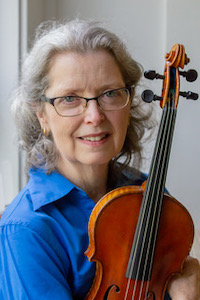 What instrument do you play in DSO/what is your role in the orchestra?
I am honored to be serving as Concert Master for the DSO.
How long have you played with DSO?
I started out as Co-Concert Master with Tina Anderson in Jan. 2014. She left at the end of that season and I stayed on, seems like I'm new but actually this was my sixth season!
Do you play any other instruments?
I teach beginning viola and a little piano. I like to sing, but I'm not very loud!
What is your City of Residence?
Oakland CA, since 2006
What do you do for a living?
Semi retired professional violinist, also substitute teach in public schools as of 12/2018
Describe your family life (do you have a spouse, kids, pets?)
Married to Michael Kamen, son Benjamin has brought two lovely grand girls into the world, ages 13 and 8!
What has been your favorite concert to play at DSO and why?
I really enjoyed La Traviata as most of my professional life was spent in the SF Opera pit. I have enjoyed every concert, though, really. I appreciate Matilda's programming.
What keeps you motivated?
Coffee? No, just kidding, little things that keep popping up to remind me how amazing it is to be alive. Inspirational humans of all persuasions make a big difference to my desire to keep plugging along. Right now reading about Frederick Douglass. He was such an important figure in this country's history.
What is your favorite place to visit, or what is a place would you like to visit that you have never been?
Edinburgh, no question. Love the Scots. I also enjoy, even need to go back to Madison, where I was born, such a lovely place.
What song best sums you up? (Can be classical or not)
Can't think of one, there are so many!
What are you proudest of?
That I have solar panels and drive an all electric car!
"I'm happiest when…"
Playing music with Corvo String Quartet!
What is one thing that few people know about you?
It's a secret!
What is one piece of music you have always wanted to play at DSO, and why?
Elgar Variations, anything by Arvo Paart or Vaughn Williams? Just all great music!