Get to know your DSO: Eva Langfeldt, oboe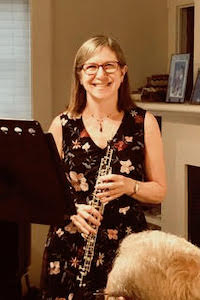 What instrument do you play in DSO/what is your role in the orchestra?
Oboe and occasionally English horn. My roles: principal oboe and volunteer editor of our programs and marketing materials.
How long have you played with DSO?
Since 2002. My first opportunity to play in the group was when I was brought in to substitute in the "1812 Overture" for a
guest English hornist, from whom I was taking a few oboe lessons at the time, since I had just recently returned to oboe
playing after a long hiatus. She asked me to cover for her because she had been injured in a fall.
Do you play any other instruments?
Recorder (sopranino, soprano, alto, tenor, and bass) and piano (badly)
What is your City of Residence?
I'm originally from Sitka, Alaska; got my BA and MA in Foreign Languages and Literatures at Washington State University (double-majored in music as an undergrad); did further graduate work in the Department of Germanic Studies at Indiana University (hung out a lot in the famed music department and, as a teaching assistant, taught first- and second-semester German to a lot of opera students and chemistry majors); moved successively to Palo Alto, Redwood City, and San Carlos; and have lived in Danville since 1999.
What do you do for a living?
I'm a semiretired self-employed copy editor, working mostly for high-technology clients. My motto is: "If they're words, I'll fix them."
Describe your family life (do you have a spouse, kids, pets?)
My husband, John Barry, originally from New Hampshire, stays busy in retirement as an artist, writer, song parody writer, and avid hiker/bicyclist. Our son, Sean Barry, lives in Portland, Oregon; is a real outdoorsman; and has been active informally in the local music scene, mostly as a tenor sax and bass guitar player.
What has been your favorite concert to play at DSO and why?
Our November 2013 concert: Britten Four Sea Interludes and Berlioz "Harold in Italy":
The Britten is extremely evocative, dramatic, and technically demanding.
Berlioz is one of my favorite composers, and I'd requested "Harold in Italy," because I grew up listening to it a lot and had always wanted to play it.
What keeps you motivated?
Making use of my talents:
Professionally
Through volunteer editing for my music groups
By playing in three large community music groups and more chamber music ensembles than I can keep count of
My other favorite activities—knitting, listening to music, binge-watching TV series, reading, cooking, eating, wine-tasting, and taking daily walks—are also good motivators.
What is your favorite place to visit, or what is a place would you like to visit that you have never been?
My hometown, Sitka, on Baranof Island in Southeast Alaska, always calls to me. I highly recommend it as a place to visit.
What song best sums you up? (Can be classical or not)
Slow movement of the Barber violin concerto, which has the most achingly beautiful oboe solo ever.
What are you proudest of?
That I pulled off two solo performances of oboe concerti, one with the Livermore- Amador Symphony (Vincenzo Bellini) and the other with the Contra Costa Wind Symphony (Frigyes Hidas), many years ago, even though I had no ambitions to be a soloist.
"I'm happiest when…"
I'm playing chamber music with my friends or traveling with my husband.
What is one thing that few people know about you?
I'm a complete introvert, except when it comes to music.
What is one piece of music you have always wanted to play at DSO, and why?
Rachmaninoff "Symphonic Dances"! Why? Well, it was Rachmaninoff's last work, and my favorite movement—the first—starts with a lyrical oboe solo that morphs into a wonderful extended wind ensemble passage including English horn, the other woodwinds, and—strikingly—alto saxophone. The rest of the piece proceeds energetically and inventively, with moments of lushness and reflection, and builds to a dramatic conclusion.