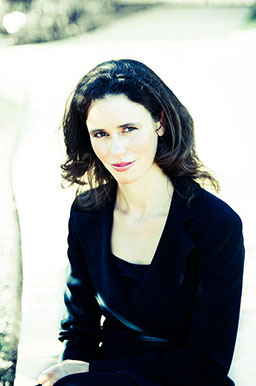 Matilda Hofman has a varied and busy conducting schedule in California and Europe. In Europe she has performed at the Salzburg Festival, Berliner Festspiele, Holland Festival, Ruhrtriennale, Luzern Festival, Paris Autumn Festival, and at the Guggenheim in Bilbao. Matilda has worked with Ensemble Modern, Ensemble Recherche, SWR Sinfonie-orchester, Bochumer Symponiker and Kammerakdemie Potsdam. She has performed alongside Maestro Ingo Metzmacher in many productions of Luigi Nono's Prometeo.
In California, Matilda is Music Director of the Diablo Symphony Orchestra, member of the Left Coast Chamber Ensemble, and conductor for Empyrean Ensemble, contemporary ensemble in residence at the University of California at Davis. Matilda has guest conducted for many orchestras in California, including the San Francisco Ballet, and serves as assistant conductor for projects with the San Francisco Symphony, including with Esa Pekka-Salonen. Matilda was conductor for soundSCAPE new music festival in Italy in 2018, and in 2019 Matilda was a resident artist at Oberlin Conservatory of Music, working and performing with the Contemporary Music Ensemble and Sinfonietta.
In 2018 she was on the faculty for the soundSCAPE new music festival in Italy. Matilda also enjoys working with choirs, which have included Volti and Chorwerk Ruhr on Stockhausen's Carre, and subsequently prepared them for their successful debut with the Berlin Philharmonic in MusikFest Berlin, with George Benjamin conducting.
Reviews have described Matilda's conducting as "taut and finely controlled", "unerring" and as giving "a striking sense of purpose" (San Francisco Classical Voice). She is a passionate advocate for Music outreach and education in the community, and developed the Diabo Symphony's outreach program.
Hofman studied at Cambridge University, the Royal Academy of Music, and the Eastman School of Music and as a conducting fellow at the Aspen Music Festival and School. Her mentors include Ingo Metzmacher, Martyn Brabbins and Neil Varon. She has received awards from the League of American Orchestras and the Conductors Guild of America.